Godmudder's Custom Trucks was founded in 1993, but owner Steve Schrader has been building trucks like these since 1979. It is something he has always enjoyed. As the popularity of big trucks has grown over the past decades so has the demand for knowledgeable technicians. Someone who knows how to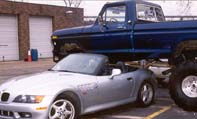 take a run-of-the-mill stock truck and turn it into a one-of-a-kind head-turning show vehicle or a really tuff true off-road wheelin' vehicle, built to withstand the tortures that off-road driving can dish out.

Godmudders has grown steadily over the past years, and has moved out of a 2 car garage in Lemont, to a 2 bay shop in Lockport, IL, to its present day home in a 5 bay shop in Alsip, IL. Godmudders is a member of SEMA and the Better Business Bureau, and we pride ourselves on the quality work that goes out the doors.
Customers safety is a priority when these trucks are put together. We manufacture legal vehicles, that meet all state regulations, and in some cases are re-registered and safety tested at an Illinois Department of Transportation safety lane every 6 months.

Godmudders meets all State and Federal requirements as regulated by NHTSA (National Highway and Traffic Safety Administration). Larger trucks are State and Federally Safety tested and tagged as Altered Vehicles. Other shops will talk about the laws concerning these trucks, but Godmudders is the only 4 Wheel Drive Center in Illinois that is Federally Licensed to do this type of work.

Godmudders supports local clubs. As members of Tread Lightly, the Blue Ribbon Coalition, the Illinois Four Wheel Drive Association and the United Four Wheel Drive Association we always make safety one of the most important factors when trucks are built.
We sell and service the finest in truck accessories and suspension parts. Whether you want to go mild or radical, we have what it takes to personalize your truck to meet your needs. We are open 6 days a week and have evening and weekend hours for your convenience.
Give us a call at 1 888 820 1033 or stop in and talk to us, we always have time to sit down and go over what you want, and try to find a way to make your truck look the way you want it to.